The ROGUE ONE: A STAR WARS STORY INTERGALACTIC RECIPES is brought to you by Just Plum Crazy.
ROGUE ONE: A STAR WARS STORY INTERGALACTIC RECIPES!
"Rogue One" is an action-adventure story in the genre of World War II movies and Kennedy says that "Gareth Edwards is bringing an authentic feel to the movie that is very different from any other Star Wars film. He is telling an intimate father/daughter story set on a huge canvas."
Check out some of the recipes from Geeks Who Eat http://2geekswhoeat.com/ . The result is this set of super BRILLIANT Intergalactic recipes to serve as you enjoy the latest chapter in the saga of the STAR WARS universe!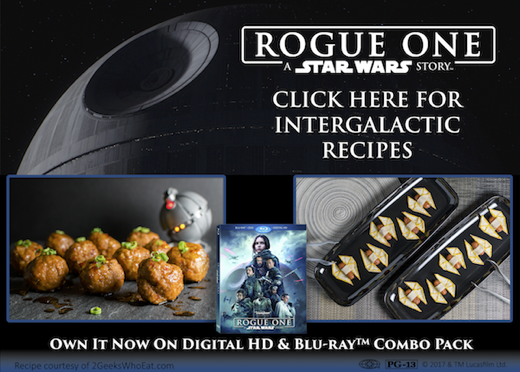 As the first of these compelling, creative stories, "Rogue One" tells the story of a group of unlikely heroes who, in a time of conflict, band together on a mission to steal the plans to the Death Star, the Empire's ultimate weapon of destruct on. This key event in the Star Wars timeline brings together ordinary people who choose to do extraordinary things, and, in doing so, become part of something greater than themselves.
The exciting series of standalone Star Wars stories ushers in a new era of filmmaking for Lucasfilm that will not only deepen and expand the universe but also provide a creative filmmaking platform.
"The Star Wars episodes (I-VII) follow the Skywalker family and tell a continuing story. The standalone movies, which can occur anyplace on the timeline, will introduce new characters and explore a wide variety of genres," Kennedy adds.
Like STAR WARS on Facebook: http://www.facebook.com/StarWarsMovies
Follow STAR WARS on Twitter: https://twitter.com/starwars
Follow STAR WARS on Instagram: http://instagram.com/StarWarsMovies
Follow STAR WARS on YouTube: https://www.youtube.com/user/starwars
Visit the official ROGUE ONE: A STAR WARS STORY website: http://www.starwars.com/films/rogue-one
Have you seen the movie? What did you think?
Follow me on Facebook and Twitter.