Things I Want in our Next Home!
As most of you know, we have sold our home in Florida and were looking for a new home either in Florida or Kansas. We haven't decided just yet but while we were in Kansas, we looked at a few houses that were part of the Parade of Homes. And there were things that I fell in love with. Plus, surfing on Pinterest every night doesn't help matters either.
Whether or not I will be able to have all them is another story…but a girl can dream can't she?
1. Barn Door! I realize that this is one of the trends for 2015, but I so love them. When we would go to my aunt and uncles farm every Labor Day, I always said I wanted to live in a farm house when I grew up. I guess it's now or never because time is running out.
2. Farm Sink! See, there is that farm thing again. Also known as an apron sink. We did want a house with at least 5 acres, but we are striking out with that dream.
3. Wood Beams on the Ceiling! This is also a trend for 2015 along with the first two, but they look so nice!
4. Entry Bench! You know, the kind where you and your family can put your coats and shoes. I think it keeps the house neat and clean looking!
5. A Desk Area! Even though I had a roll top desk in the spare bedroom, my kitchen table was my desk and it was a mess. I always wanted a little desk area in the kitchen or close by. Our counters used to be the catch all for mail, packages and everything in between.
6. A Gas Fireplace! We had a gas fireplace but it was it was propane and there was always this certain smell in the house when we would burn it that gave me a headache. I want a natural gas fireplace!
7. A Vented Hood above the Stove! We had our microwave above the stove and when I put the fan on, it didn't really seem to help. We had glass cupboard doors on each side of the stove and when I would boil something, they would fog up and the wood started to actually turn. I don't want to worry about that anymore.
8. French Doors Leading to the Deck! I love french doors and always thought that we should have put them in our bedroom in our last house. This time, I will try and make sure I get them. I'm not getting any younger you know!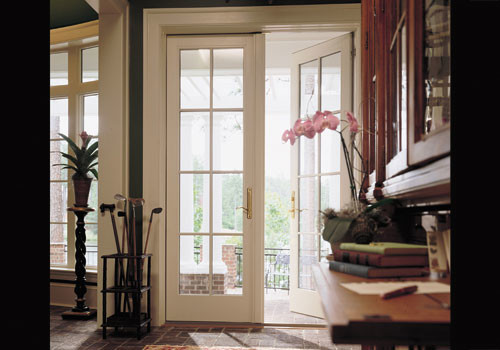 9. An Ice Cream Bar in the Basement! Okay, I know this is probably out of the ballpark but when I first seen it…I fell in love with it. I will probably just end up with a wet bar and that would be okay too. He is a builder in Wichita too which is where we might head to.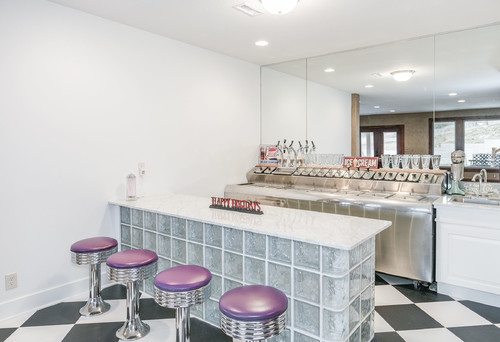 10. A porch! I didn't really have a porch in our last house. I had a small spot by the front door that I would decorate and I had my rocking chair there, but it wasn't really a porch porch…the kind you can relax on and sit with friends.
11. Green Glass Knobs! I really like the green glass knobs that I have been seeing on Pinterest. (I really need to stay off of there!) Even though I have green in my kitchen set and in my couch, I'm not sure how they would like…but I like them anyway!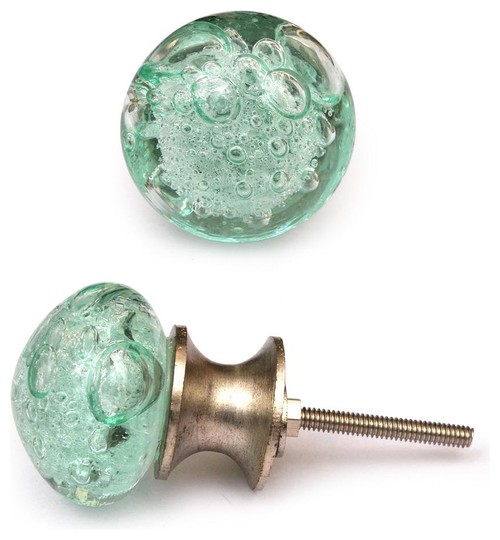 12. Recycled Glass Counters! I really love these counters but with my luck, they probably cost a fortune. When you are building a house…everything adds us! So you have to be careful with all the extras.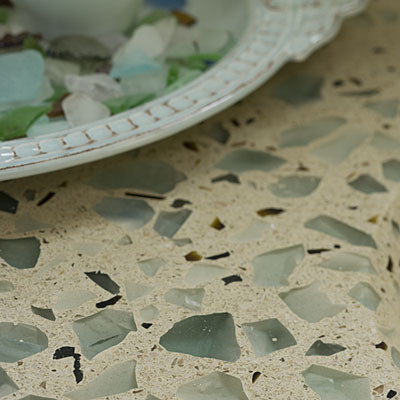 I think that is pretty much it for now. I'm sure there will be more I will find on Pinterest or while home shopping, but I will probably have to cut some of things out.
Check back in a few to see what we decide to do and where we decide to live.
What are some of your home dreams?
Follow me on Facebook and Twitter.
Topic: Things I Want in our Next Home!