Watch the skies for Disney's Planes this summer!
Watch the trailer from the new Disney Planes coming to a theater near you in 3D, August 9th, 2013.  I know this is one movie that my grandson isn't going to want to miss.  He loves everything Disney and so do I!
From above the world of "Cars" comes "Disney's Planes," an action-packed 3D animated comedy adventure featuring Dusty (voice of Dane Cook), a plane with dreams of competing as a high-flying air racer. But Dusty's not exactly built for racing—and he happens to be afraid of heights. So he turns to a seasoned naval aviator who helps Dusty qualify to take the defending champ of the race circuit. Dusty's courage is put to the ultimate test as he aims to reach heights he never dreamed possible, giving a spellbound world the inspiration to soar. "Disney's Planes" takes off in theaters in 3D on Aug. 9, 2013, and will be presented in Disney Digital 3D™ in select theaters.
Watch the Disney Planes Trailer Here!
Some of the characters:
Dusty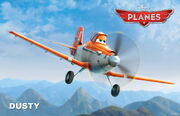 (voice of Dane Cook)
Dusty is a plane with high hopes—literally. Crop duster by trade, this single-prop plane sees himself soaring alongside his high-flying heroes in an international race. The fact that he's not really built for competitive racing doesn't deter him from pursuing his dream—but his fear of heights just might. With a little help from his friends—and a WWII vet with wisdom to spare—Dusty takes off on an adventure of a lifetime, going prop-to-prop with champions while daring to reach heights he never imagined possible.[20]
Skipper Riley
(voice of Stacy Keach)
A reclusive old Navy Corsair, Skipper was an ace flier and top instructor of the esteemed Jolly Wrenches squadron until an incident during a combat mission took him off the front lines and left him grounded for life. These days, Skipper keeps to himself, but his quiet existence is turned upside down when an ambitious and persistent Dusty solicits Skipper's aerial expertise—and gets a few life lessons in the process. But Skipper—who's never really come to terms with his past—finds that he has a few things to learn, too, and while coaching Dusty to fly faster and smarter, the teacher becomes the student.[20]
Ripslinger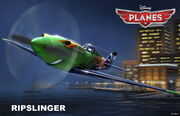 (voice of Roger Craig Smith)
With more wins than he can count and an abundance of fans, Ripslinger is wings-down the biggest name in air racing—and he knows it. But despite sky's-the-limit funding and state-of-the-art equipment, the world champion still doesn't play fair—especially when it comes to a small-town plane with zero racing experience. Dusty doesn't belong in Ripslinger's sport and his mere presence makes the pro's fuel boil. And if Dusty's inexperience doesn't take him out of the race, Ripslinger's vast empire includes a couple of underhanded sidekicks to take care of business.[20]
Enter your email address:  Delivered by FeedBurner